Details

Category: About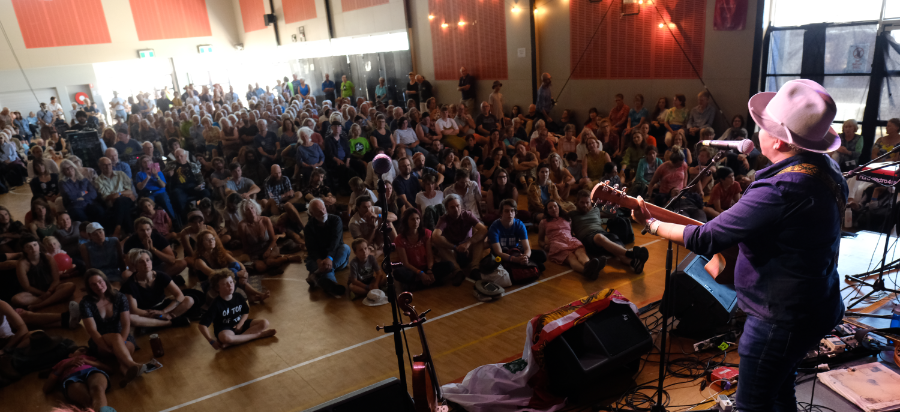 The Cygnet Folk Festival is one of Australia's most iconic folk music festivals. Very highly regarded by musicians and festival-goers from all over Australia and overseas, competition to come to Cygnet is at an all time high amongst performers, and last year we had a record number of applications! The Festival is a showcase of eclectic music genres featuring both local and international talent, dance, poetry, masterclasses, film, kids' entertainment, food, wine, art and local handicrafts all set in the breathtaking scenery of Tasmania's Huon Valley.
Musicians and volunteers plan their annual holidays around coming to Cygnet in January each year and many come from interstate and overseas especially to be part of this wonderful event. The incredible talent of local and visiting musicians is celebrated over the January weekend and we are proud that so many amazing performers and festival goers take part in what the Festival has to offer each year.
The Cygnet Folk Festival began in 1982 and is a not-for-profit community event organised by a volunteer management committee (Huon Folk Inc), a paid Festival Manager & Art Director and many dedicated people volunteering their time and expertise. Huon Folk Inc is open to membership as an incorporated association: to become a member please click here for the online form.
Cygnet has a population of less than 1,600 people and for such a small community, the Festival is impressive in its size, scope and quality.
The Festival attracts thousands of visitors every year. A rich cultural community event, the Festival provides entertainment to a wide audience of Festival attendees, making people smile, providing opportunities and a springboard for young musicians, opportunities for local businesses, and new friendships.
The aims of the Festival are:
to offer folk, ethno, world, singer-songwriter, roots and acoustic music, dance, poetry and workshops from local, national and international artists.
to encourage interest in and awareness of folk music and associated activities to people of diverse ages and backgrounds.
to provide support and opportunities to young musicians.
to foster mutually beneficial relationships with the local community, businesses and associations.
Download or view the Huon Folk Inc Constitution (Rules of Association)
Details

Category: About
Burtons Reserve
The Burtons Reserve Festival Camp site is located at the Southern end of town on the edge of the Cygnet waterfront and within easy walking distance of all venues.
This beautiful area is a bird sanctuary & wetlands. The Festival Committee wishes to thank the Huon Valley Council for giving special permission for camping by Festival patrons.
Pets
IMPORTANT: The whole of Burtons Reserve has been declared a prohibited area for dogs under section 22 of the Dog Control Act 2000 to protect sensitive habitat for native wildlife. No pets will be allowed at Burtons Reserve. Cygnet Holiday Park at 77 Mary St is pet friendly, please click here for more details.
Camp Site Managers - Port Cygnet Scout Group
In line with the Festival's commitment to working with local community organisations, we are pleased to announce that the Port Cygnet Scout Group has again volunteered to manage the Burtons Reserve camp site.  In appreciation of this support, the Festival will be making a donation to the Port Cygnet Scout Group to assist them with their invaluable work with local young people.
Camping Tickets
Please refer to the Tickets page for details on how to purchase camping tickets. Camping in Burtons Reserve is only available in conjunction with a weekend Festival ticket.
Camping tickets are per person. Camping tickets are required for Festival patrons aged from 13 years to adults. For children aged 0 - 4 years of age, camping is free, however you must register all children via our ticketing page. Please note that children must camp with an adult and must obtain a camping wristband from the Festival Box Office.
PLEASE NOTE: All vehicles entering the campground require a Vehicle Pass - be sure to purchase one with your festival and camping ticket.  If you choose to park your vehicle in the campground you will not be able to move it during the festival. If you need to use your vehicle or do not wish to purchase a Vehicle Pass, you can park in the Festival public parking area, at your own risk, for a gold coin entry fee.
Recreational Vehicles 
All vehicles entering the campground require a Vehicle Pass - be sure to purchase one with your festival and camping ticket.
PLEASE NOTE
If you choose to park your vehicle in the campground you will not be able to move it during the festival.
RV/campervan/caravan vehicles including annex, guy ropes, etc. must not exceed site allocation of 7m in width by actual length of vehicle.
It is strongly recommended that RVs empty their septic waste at the Huonville waste dump prior to heading into Cygnet. The Huonville RV dump point can be found on The Esplanade opposite Huon River Jets Boats which is conveniently located on the road that leads into Cygnet from Huonville. A fresh water tap can also be found on the Esplanade across the road from the RV dump point near the public toilets.
Camp Ground Access Times
Camping Times: 9am Thursday prior to the Festival until 1pm Monday (day after the Festival)
Please note: The gate to Burtons Reserve will be locked at 10am on Monday (day after the Festival) and camping cannot be extended beyond this time.
What Should You Bring?
Besides your tent and all your camping gear, don't forget to bring the following:
The weather during the Festival can vary so come prepared for a bit of rain, warm/hot sunny days and cool nights.
Hat
Sun Glasses
Sun Cream
Refillable Water Bottle
Earplugs
Torch
Battery Powered Light
Burtons Reserve Camp Site Facilities
Powered and water sites are not available at the Burtons Reserve Festival camp site.  (See Commercial Accommodation for powered sites at Cygnet Holiday Park)
Potable water is available.
The site has public toilets and the Festival provides additional portable toilets.
Basic shower facilities.
Picnic shelter with four large tables, one small table and two electronic barbecues.
For the children there is a boat playground and a swing area.
Your car can be parked near your tent but you will not be able to move it during the Festival.
You are welcome to bring your own cooking facilities (no fires allowed).
In Cygnet
There are 2 supermarkets and 2 butchers in the village.
A laundromat is located in the village next to the Newsagent.
See our FAQs section for info about banking facilities in Cygnet.
There are restaurants, cafes, takeaways, food stalls.
Security & Camping Sites
The Burtons Reserve camping area will be supervised during the Festival with all night supervision and security on Friday and Saturday nights.
You can camp in tents, cars, caravans or campervans
Camping is pre-paid but sites are not pre-allocated. We operate on a first come first served basis.  On arrival you will directed to an area depending upon the size of your camping requirement (tent, camper, caravan, RV etc.). If you would like to camp with friends you must arrive together.
Camping is restricted to approved camping sites.
Please do not camp in unauthorised, non camping areas.
There are designated "earlybird" and "night owl" areas.  Please be mindful of others when camping here.
Fires are strictly prohibited.
Cygnet Folk Festival does not accept liability for the security of belongings, tent equipment, vehicles, etc., and all campers must accept responsibility for their own equipment.
Please be courteous of your neighbours at night and keep noise to a minimum.
Please make sure that all your camping equipment stays within your allocated space.
You are welcome to bring your own cooking facilities (no fires allowed). Please note gas cylinders must be in date.